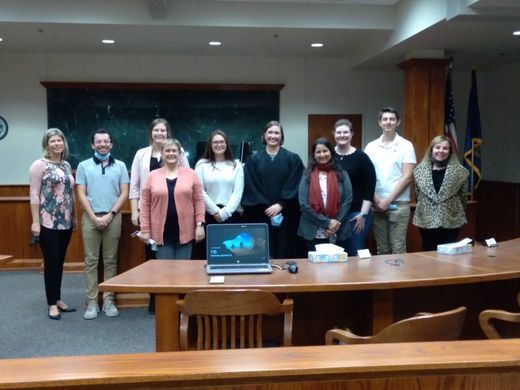 CASA volunteers are required to complete 12 hours of in-service/continuing education each year.  The 12-hour requirement is pro-rated for new volunteers depending on when they are sworn-in (e.g. you complete new CASA volunteer training and are sworn-in on March 15th, with 9 months remaining in the year. You would be required to complete 9 hours of in-service continuing education that year.) If you have any questions about the number of hours you have earned or the number of hours you need to comply, please contact your Volunteer Coordinator or the CASA office. Below are links to a variety of trainings - some hosted by other CASA programs and some hosted by other community organizations. Please follow the directions given to attend or register for those trainings. There is also a list of options to pursue on your own for in-service credit (books, videos etc.). National CASA has placed a limit of 4 hours (out of the 12 required) that can be earned from reading books or articles. Please fill out the Learning Summary that is available below once you complete a continuing education training or video/book and return it to your Volunteer Coordinator for credit.  CASA for Lancaster County will offer a minimum of 12 hours of in-service/continuing education trainings each year.  When you attend any of those trainings, attendance will be recorded so you will not need to report those trainings to your Volunteer Coordinator.  Completion of 12 hours of In-Service/Continuing Education training is required  by the National CASA Association.
In-Service/Continuing Education Trainings
Fill this out and return to your Volunteer Coordinator for any trainings NOT sponsored or facilitated by CASA for Lancaster County

Defining the Line: Setting & Maintaining Healthy Boundaries - January 21, 2022, 1:00 PM CT, 75 minutes
National CASA sponsored training

This is a list of books, videos and podcasts that you can read, view or listen to in order to earn in-service training credit. We will update this list periodically so check it throughout the year.

This is a PDF document listing books and videos that are suitable for In-Service/Continuing Education credit. There are links embedded in the document so that you can access the book or video. Remember to fill out a Learning Summary sheet if you view or read anything from this list!

These free trainings explore different types of therapy for young children. Register through the website at the bottom of the flyer.
In-Service Trainings offered by CASA for Douglas County
·        Trust-Based Relational Intervention (TBRI) Overview, January 19, 2022, 5-7 pm. Presented by Katelyn Wilee, Advocate Supervisor, CASA for Douglas County. Register Here
·        Foster Child Safety and Youth Rights, February 2, 2022. Presented by Matt Priest, Director of Foster Family Services, Boys Town. Register Here
·        Community Resource Panel, February 23, 2022, 5:30-6:30 pm. Featuring Down Syndrome Alliance of the Midlands, KVC Nebraska, and Completely KIDS. Register Here
·        Family Finding: Building Connections for Youth, March 2, 2022, 5:30-6:30 pm. Presented by Kim Arkfeld, Permanency Coordinator, Nebraska Children's Home Society. Register Here
·        It's not an option, it's a necessity: Equipping young children to be antiracist citizens, May 4, 2022. Presented by Dr. Kerry-Ann Escayg, Associate Professor, University of Nebraska at Omaha. Register Here
 
The Tale of the CASA Volunteer
---