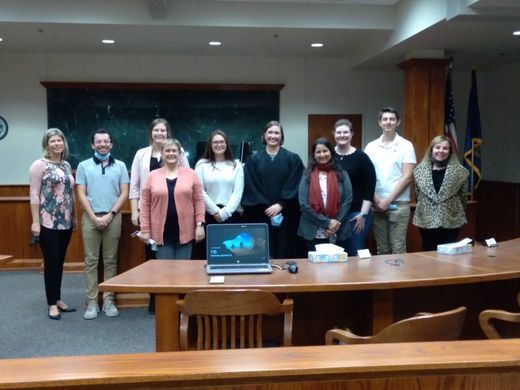 CASA volunteers are required to complete 12 hours of in-service/continuing education each year.  The 12-hour requirement is pro-rated for new volunteers depending on when they are sworn-in (e.g. you complete new CASA volunteer training and are sworn-in on March 15th, with 9 months remaining in the year. You would be required to complete 9 hours of in-service continuing education that year.) If you have any questions about the number of hours you have earned or the number of hours you need to comply, please contact your Volunteer Coordinator or the CASA office. Below are links to a variety of trainings - some hosted by other CASA programs and some hosted by other community organizations. Please follow the directions given to attend or register for those trainings. There is also a list of options to pursue on your own for in-service credit (books, videos etc.). National CASA has placed a limit of 4 hours (out of the 12 required) that can be earned from reading books or articles. Please fill out the Learning Summary that is available below once you complete a continuing education training or video/book and return it to your Volunteer Coordinator for credit.  CASA for Lancaster County will offer a minimum of 12 hours of in-service/continuing education trainings each year.  When you attend any of those trainings, attendance will be recorded so you will not need to report those trainings to your Volunteer Coordinator.  Completion of 12 hours of In-Service/Continuing Education training is required  by the National CASA Association.
In-Service/Continuing Education Trainings
Fill this out and return to your Volunteer Coordinator for any trainings NOT sponsored or facilitated by CASA for Lancaster County

This is a list of books, videos and podcasts that you can read, view or listen to in order to earn in-service training credit. We will update this list periodically so check it throughout the year.

This is a PDF document listing books and videos that are suitable for In-Service/Continuing Education credit. There are links embedded in the document so that you can access the book or video. Remember to fill out a Learning Summary sheet if you view or read anything from this list!

Updates on Psychotropic Medications in Children for DCBS
This training recording explains drug categories for psychotropic drugs. The training explores the reasons for prescribing and 'De-prescribing' psychotropic medications in foster care. It discusses scenarios when foster parents should advocate for their youth in their home on being prescribed too many medications and when to advocate for reduction. The training describes informed consent and how this pertains to psychotropic medication.

This is a taped webinar and can be viewed at any time.

All Children - All Families, a program of the Human Rights Campaign, just release a calendar of their new webinar series. All Children - All Families promotes LGBTQ+ inclusive policies and affirming practices among child welfare agencies and formally recognizes those agencies that are leading the field with innovative approaches to inclusion. Registration links are provided on the pdf that you can download.

Here is a link to a YouTube playlist from Understood, a social impact and non-profit organization dedicated to helping those learn and think differently thrive. These short videos particularly focus on IEP general concepts, IEP tips for parents and more. Remember to fill out a Learning Summary to get in-service credit. You can use one form if watching more than one of these videos - no need for separate forms.

The Empowered CASA - Mindset Training

This on-demand mindset course was created specifically for CASA programs. Volunteers can begin it at any time and complete as many of the 8 modules as you like. Volunteers receive a monthly email giving them information about the date and time of a monthly coaching session. To receive continuing education credit, make sure you fill out a Learning Summary sheet for the modules you complete or the coaching sessions you attend and email it to your Volunteer Coordinator. If you are not receiving a monthly email for this course, please notify the CASA office.

CASA for Douglas County was kind enough to share a list of antiracism resources. These are books and podcasts. All are eligible for in-service/continuing education credit.

This is a recording of a webinar hosted by Nebraska CASA. You are invited to watch this one hour recording of Ages and Stages That Impact Rapport Building by Lauren Geier, LPC-S. The Objectives to this training are:1. Review typical child development markers. 2. Review the role rapport building plays in advocacy. 3. Deviations from developmental expectations often seen with children involved in the child welfare arena. 4. Develop new strategies for rapport building with consideration of special circumstances.

Webinar recording of a training sponsored by Nebraska CASA on 6/7/2022
About this training: This training will discuss the many layers of implicit bias. Where does implicit bias begin, and where do we see it most frequently? What are the modalities of power and cultural ideologies that give way to our biases? Who can be implicitly biased, and how do cultural structures and societal communication styles affect it? These are some of the questions that will be addressed. CASAs will leave with a more holistic understanding of implicit bias and the ways it shows up in child welfare when advocating for youth and children.

This one-hour in-service training discusses the effects of domestic violence on the brain development of children. Please note, there are two links for this topic - one for the Zoom recording of the presentation and a second for the accompanying slides.

This link is for the slides that accompany the video presentation above.

This is a large list of a variety of Mental Health trainings, diversity and inclusion trainings as well as self-care and trauma. The attached document contains links to these trainings and all are free. Be sure to complete a Learning Summary and return to your Volunteer Coordinator in order to receive credit.
The Tale of the CASA Volunteer
---